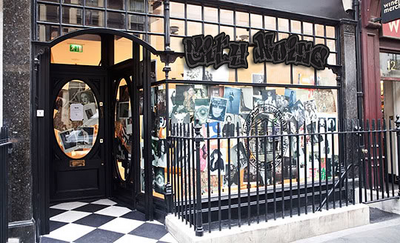 City Noise is a local music shop owned and run by Kev. Hours are 10:00 am - 6:00 pm every Saturday and Sunday.
Description
Edit
City Noise is a record store resembling a retro diner. Aside from featuring nearly every kind of music imaginable, it also offers a selection of video games, band apparel, jewelery, posters, and all sorts of other assorted merchandise.
A two story building of white stucco, the front is built of black granite and iron. Various musicians are posted in the window, with a fluroscent 'open' sign floating above them.
The inside is similar to an old diner-white walls, black and white checkered floor and retro inspired red lights hanging above the displays of CDs and records. Upstairs is a blue kitchen, and a nice lounge and office. Music lessons are hosted here.
City Noise was founded by Zippy Sokoll, but it is now co-operated by Kev. The shop has had its ups and downs since its initial establishment, but it is still going strong, and has now hit a better stride than ever before. Shiro, Nyreena, and Xavier were each hired in mid-spring of 2014 to help out with part-time and stocking shifts. Shiro and Xavier disappeared several months later however, leaving Nyreena to be the only other hired coworker.
The music store is one of the longest-running establishments founded by an arrival on the Breach.