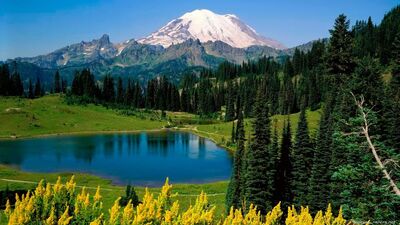 The Boolean Mountains are the primary mountainous regions of Portal Breach.
Description
Edit
The Mountains, situated at the north of the Breach just below the Icelands, are full of life and vitality via their selection of flora and fauna. It is one of the least populated places, but that doesn't mean it's not popular. Many choose to go to the mountains for training, hiking, and to make secret hideaways. Their snow-capped mountains connect to the Icelands, and the luscious green woods spreading below at its feet connects to the much larger and rather denser forest area. The lack of inhabitants make the mountains a serene place, ideal for those who wish for closure and quiet close to nature. There are many trails for people to use in case they get lost, along with warning signs to avoid certain areas such as territory bears roam (yes, we have bears), and other wild, potentially dangerous animals. There's a small lake for fishing, dubbed Moraine Lake, and a few areas ideal for camping.
It is one of the most peaceful and secluded areas in the Breach, having little to no noise except for its wildlife. However, it is usually subject to rainfall in the spring months, and plenty of snow during winter.
The Boolean Mountains cut a swath through much of the main continent of the Breach, sitting just north of the Daemon Wastes and to the north/northwest of the Samba Heartlands.
The Boolean Mountains have long been a steady presence in the wilderness of the main continent, but even with their ever-changing features as new areas are pulled to the Breach, they have not seen too much overall shift in their general formation.
Notable Feautres
Edit
In addtion to the general areas of the mountains, there is also a sizable section of relatively unexplored empty caves.